David Meltzer, CEO Sports 1 Marketing
Stephanie Manning, Lerer Hippeau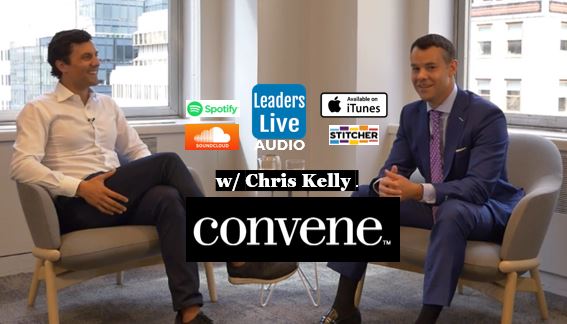 Chris Kelly, CoFounder Convene
on CharlieNYC Audio Podcast
on CharlieNYC Audio Podcast
Al DiGuido, CRO North 6th Agency
Former CEO Zeta | CEO Epsilon
on CharlieNYC Audio Podcast
Mark French - Serial Entrepreneur
Leaders Live Audio on CharlieNYC Audio Podcast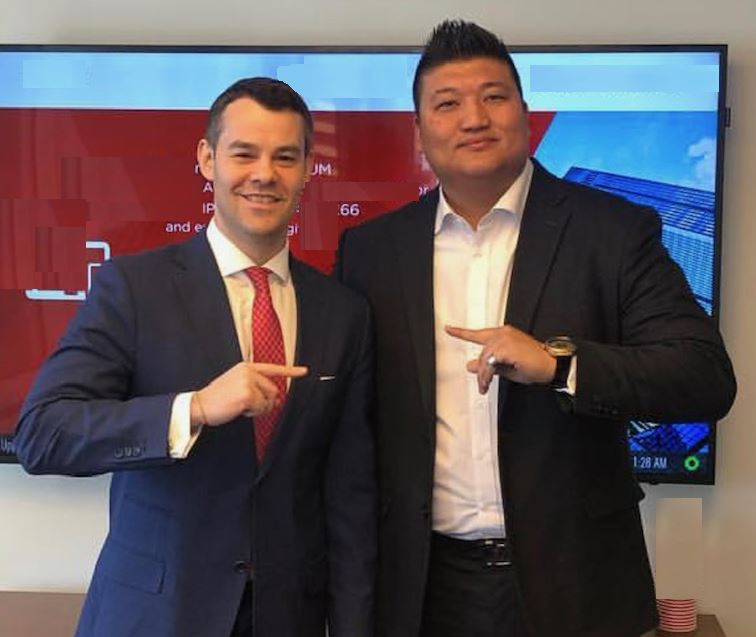 Episode 48: Adriana Catalina Vazquez Ortiz & Sujay Kumar, Founders of Lilu. An MIT grad & an electrical engineer meet at UPENN grad school to form a powerful team in building technology for new moms. We talk their business journey into winning numerous start up contests and tips for presenting to investors.
Episode 47: John Laramie, CEO & Founder of Project X. John's been named to Business Week's List of Best Young Tech Entrepreneurs and Silicon Alley's List of Top People in NYC Tech. Project X has been recognized by Crain's Fast 50 list and named Top 10 on Inc. 5000 fastest growing companies.
Episode 46: Kison Patel CEO & Founder of DealRoom talks about his early business experience as an M&A advisor to building up the tech software platform DealRoom. Kison walks us through his hiring process, company growth and blending cultures in the M&A process.
Episode 45: Jasmine Shells, CEO & CoFounder of Five to Nine, millennial entrepreneur & TEDx Speaker. We talk the inception of the company, early business experience & starting a mentoring program at EY. She gives us growth tips on communication, strategy & being a good story teller. "Affinity Matters"
Episode 44: James Stovall, CEO & CoFounder of Little Bird HR. Ranked #5 Insurance Company on Inc. 500 and #508 on the Inc 5000 List which ranks the country's top 5000 fastest-growing private companies. James breaks down the company's success, inception, building our the software behind the product and growth.
Episode 43: Mark Kalkwarf CEO & Founder of ATYPICAL talks about his journey from starting in software sales into building his current marketing company. We discuss technology in real estate, the best advice received, lessons learned from his father and pro-tips for business growth.
"If you want to get noticed, you got to do something atypical!"
Episode 42: Dileep Thazhmon COO & CoFounder of PowerInbox a highly successful trusted audience engagement & digital monetization platform for the best publishers and marketers in the world. The company has 8,000% growth over the last three years with a revenue run-rate over $35M. PowerInbox was ranked the #2 in Software, Inc. Top 30 List, #3 Deloitte Fast500 List & #4 Crains Top50 List.
Episode 41: Jason Feifer, Editor in Chief of Entrepreneur Magazine, keynote speaker, published author and host of 2 podcasts. We discuss his journey from working a small town newspaper to becoming the leader of Entrepreneur.com We discuss how to stay in touch with your network, co-writing the novel Mr. Nice Guy with his wife, and the Culture & mindset of today's entrepreneur.
Episode 40: Ben Wright the CEO Founder of Velocity Global the 4th Fastest Growing Private Company on the Inc. 5000 List. Ben discussing the importance of company Culture, hiring 10's and helping companies grow internationally. Velocity Global is an international employment services firm ensuring companies get the fastest entry into market, reduce costs, and maintain the highest level of flexibility by adjusting to your business demands.
Episode 39: Michael 'President' Anderson, CEO & Founder of MPAC Solutions talks Venture Capital, FinTech, Investing, Advising and creating Investment Funds to Empowering Communities. Working his way up through Harvard, Wharton Grad, Wall Street to founding his own businesses. Michael talks through navigating his portal of high net worth individuals to reinvest into sustainable innovation.
Episode 38: Tanya Zuckerbrot, MS, RD the Founder & CEO of the F-Factor talks about her humble beginnings from selling rocks in her front yard to starting one of the most popular weight loss and health programs in the world. Tanya educates us on the benefits of a Fiber based diet and how she started her own private health practice in NYC.
Episode 37: Taqee Bond, Founder and CEO of Whats the Move NYC. The Bronx Native talks about his NYC Social Platform that is helping NYers find the best daily events in TriState including festivals, music, food and nightlife. Taqee explains how he made the leap into the business from the first steps to building a team, the impact of his mentor Combat Jack and the importance of focusing on your strengths.
Episode 36: Michael Marra, CEO & Founder of the ME GROUP that's providing the next generation with cutting edge community, education, and self development. Michael created the ENTRE network which is the hub for entrepreneurs to connect, learn and build businesses together.
Episode 35: Adnan Pirzada and Tristan McCormick, the CoFounders of Clarify. Clarify is education technology company building a way to help schools and teachers make better sense of students data.
Episode 34: Carlo Cisco, Founder & CEO of SELECT, a private membership community and concierge service that provides access to exclusive events, insider pricing and VIP perks at thousands of locations. SELECT partners with top rated local restaurants and nightlife venues as well as premier global brands in travel, retail, entertainment & more.
Episode 33: Nick Woodhouse, President & CMO of Authentic Brands Group. ABG owns consumer brands such as Juicy Couture, Jones New York, Elvis Presley, Muhammad Ali, Marilyn Monroe, Michael Jackson (manages), Nine West, Nautica, Hickey Freeman, Aeropostale, Airwalk & Prince.
Episode 32: Jeff Berman a General Partner at Camber Creek. Camber Creek is a venture capital firm providing strategic value and capital to operating technology companies focused on the real estate market.
Episode 31: Special Episode- Tips for Growth. We go back and hear all the previous guests protips and advice on growth both professionally and personally. Hear the Founders of Venmo, the USA Network, Brooklyn Boulders, VaynerSports and VCs.
Episode 30: Jason Fox is the CEO & Founder EarBuds Music, a social music platform that offers fans a way to connect with their favorite athletes and musicians to share moments. Jason is a natural born leader who has built a solid team around him and is looking to grow EarBuds Music across the globe by connecting fans and friends through sharing music.
Episode 29: Travis Grillo, Founder Owner CEO of Grillo's Pickle's took his grandfather's pickle recipe and turned it into a multi-million dollar business. Started from a selling single pickle spears from a wooden pushcart in Downtown Boston, he worked his way up to be featured in Fenway Park and snuck his way into WholeFoods.
Episode 28: Kay Koplovitz Founded the USA Network and is currently the CoFounder & Managing Director of the Springboard Growth Capital. She is the Chairman of
Springboard Enterprises, a non-profit accelerator that has fostered the investment of more than $8.3 billion in women-led firms, and has served as its Chairman since inception.
Episode 27: Jeanne Sullivan has been described in Forbes as "one of the women VCs changing the world – grooming the next generation of female entrepreneurs". Jeanne is a General Partner at The Arcview Group and is a fierce advocate for legalization and regulation of the Cannabis industry.
Episode 26: ConCreates CoFounders Vincent Bragg and Janeya Griffin about giving inmates a purpose and helping rehabilitate into contributing members of society. ConCreates is a unique Creative Agency that crowd sources its ideas from the untapped talent pool currently locked up behind bars.
Episode 25: Premium Pete Gibaldi is the Founder & Host of the Premium Pete Show, CoFounder of YouGottaEatThis! and Founder SneakerTube. Premium Pete is devoted to creating comedic, momentous, and thought provoking conversations with established & notable figures around pop culture, family, entrepreneurial growth and more.
Episode 24: Christian Wierød, CEO & CoFounder of UniteLiving. He talks digitization and automation of the residential rental market from Norway and breaking into the NYC market. Christian was a squad leader in the Norwegian Armed Forces, a tour guide around the world, and a club ski coach in Canada.
Episode 23: Special Episode Highlighting The Ignitia Open Pitch Competition. On Wednesday June 20th, 2018 Ignitia Office held their first annual pitch competition that featured the 7 finalist competing for $20,000 grand prize consisting of $10,000 in coworking space and $10,000 in cash. Below are the following contestants that we spoke with prior to the big pitch.
Episode 22: Andrew Ackerman Managing Director at Dreamit Ventures a Top 5 accelerator in the world. Andrew is in charge of UrbanTech at Dreamit and investing, advising & mentoring post seed start-up companies. Andrew previously founded Bunk1 and consulted at Booze Allen.
Episode 21: Trevor Sumner CEO at Perch Interactive. Previously Trevor was the President, CMO and co-founder of LocalVox, a local social & mobile marketing platform for local businesses that was named one of the top NYC startups. Trevor is a NYC-based entrepreneur, product and marketing executive and recognized startup advisor and angel.
Episode 20: Rob Krauss CoFounder of Fortina which has 5 tri-state restaurant locations and growing. Rob used his digital marketing experience and customer retention strategies to create BoomLetGo, a new data/ mobile restaurant payment app.
Episode 19: Josh Bobrowsky the CEO & CoFounder of Ignitia Office which is a premium Coworking space that was recently ranked Top NYC Startups of 2018 and Top 7 Coworking spaces in NYC by Inc. Magazine. Josh also founded Icons Consulting, founder of Integrated Fitness & owned J.B. Landscaping.
Episode 18: Ramya Joseph, Founder of Pefin the worlds first AI financial advisor. We discuss the soul of her company Pefin and creating a people first culture. Ramya talks about getting into machine learning and AI from her business experience at IBM and Goldman Sachs.
Episode 17: Jesse Levin, Founder of Tactivate which is combining special operation veterans and entrepreneurs to help in disaster relief efforts. Jesse also CoFounded Brooklyn Boulders, is the Founder Active Collaborative Workspace, Founder of Mortar & Pistil and Founder of the Archer Group.
Episode 16: Ray Edwards, CEO & Founder of PNDULUM a fully integrated consumer product development, innovation company and incubator that is an accelerator for minority entrepreneurs. LA-based entrepreneur & early-stage venture professional serving in strategic marketing, finance, and business development functions. Formerly CFO The Players Tribune and Director of Finance & Strategy at Violator Management.
Episode 15: Peter Birsinger, CTO & CoFounder of Podible. Podible is a podcast listening app that learns what you love and recommends new podcasts for you. Podible also helps authors grow their audience & monetize with analytics & (soon) programmatic audio ad insertion.

Episode 14: David Kiddder, CEO & CoFounder of Bionic Solution. David is an experienced entrepreneur and angel investor in over 30 companies. Creator & CoAuthor of the two-time New York Times bestselling five book series, The Intellectual Devotional. Prior to Bionic, David CoFounded Clickable and SmartRay Network.
Episode 13: Tom Meredith, CEO & CoFounder of BitMinutes (BTM) a new Crypto-currency that democratizes P2P lending to the street corner level across the world.
Episode 12: Jared Feldman, CEO & Founder of Canvs. Jared was named one the Forbes 30 under 30 Class of 2017. Canvs is an analytics company that measures and map emotions around content. Canvs' clients include HBO, Sony, Viacom and NBC Universal. Canvs has received funding from the like of Gary Vaynerchuk and Ludlow Ventures.

Episode 11: Dan Ceniceros, Founder of Connect Media. Dan has 20 years of experience in commercial real estate branding, media, advertising and events. His focus has been on creating technology experiences for news delivery, data and analytics, and marketing for commercial real estate owners, developers, and investors.
Episode 10: Andrew Kortina, CoFounder of The Fin Exploration Company and CoFounder of Venmo. Fin uses a combination of machine and human intelligence to capture and organize everything in your life. The Fin assistant will get your tasks, calls, emails, research and purchasing done for you.
Episode 9: AJ Vaynerchuk the CoFounder of VaynerSports. A sports agency for the modern day athlete. VaynerSports is representing 8 star prospects in the upcoming NFL Draft. AJ previously cofounded VaynerMedia one of the fastest growing media companies in NYC.
Episode 8: Aaron Block, CoFounder & MD of MetaProp a global real estate technology investment advisory and accelerator firm. Aaron is also on the leadership council at Tech:NYC, previously served as CEO/Chairman of Chicago-based BayRu, LLC, a US-Russia ecommerce shopping/shipping firm and Aaron was a top producing broker at Cushman & Wakefield.
Episode 7: Luan Cox, CEO & Founder of FinMkt. We discuss early business experience in Silicon Valley, inventing FinTech, her mentors, how she founded FinMkt, protips on growth, the importance of a good cofounder, company Culture and entrepreneurial traits. Luan is also a mentor at Techstars and Adviser at Springboard Enterprises.
Episode 6: Chase Garbarino a media entrepreneur that founded multiple successful companies including his recent real estate company HqO, a tenant engagement platform to help landlords optimize their property and build a community where people love to work. Chase also founded CampusWord, Streetwise Media, AmericanInno, Hamilton College's Entrepreneurship Club, VentureApp & Fullstack Sports Ventures.
Episode 5: Michael Beckerman, Founder of The News Funnel & CEO of CRETech. Mike also founded Beckerman Public Relations, which was tagged one of the fastest-growing independent PR agencies. We talk ProTips for Growth, having compassion and the future of Technology in commercial real estate.
Episode 4: Aleksey Kernes, CoFounder of HOOCH a mobile subscription based cocktail app. We discuss managing multiple NYC clubs & restaurants and creating the wildly popular cocktail app HOOCH and expanding into over 10 cities worldwide.
Episode 3: Dave Maloney, Founder of the D10 Decathlon, CharityBets and Norma Technology. The Decathlon includes 10 events: 400m run, football throw, 40yd dash, bench press, and more. The D10's community has raised over $9M for the Pediatric Oncology Experimental Therapeutics Investigator's Consortium (POETIC) of Memorial Sloan Kettering Cancer Center.
Episode 2: Andrew Cohen Founder/CEO of mobile education startup Brainscape. Mentor at TechStars. Instructor at General Assembly. ProTips for growth, best advice received, morning routines & the importance of productivity and organization. Learn from a true start-up leader through Andrew's journey.
Episode 1: Iqram Magdon-Ismail the CoFounder of Venmo, Founder of Ense and member of the band Iqram & the Immigrants Groove. We discuss his growing up in Africa, U-Penn, pitching Mark Zuckerberg, the untold story on how they created Venmo and his new venture ENSE the social audio platform.
Listen to the highlights and follow @culture on Ense.
Ense is a social audio platform where you can record questions and send it the guests i.e. @iqram or @charlienyc (private or public) where they can respond. The app is a community of musicians, creators and everyday people looking to be heard and communicate with each other.
Follow @Culture @CharlieNYC on ENSE